From Airman to Caster: Alex "Hybrid" Kennedy
Alex Kennedy's grandmother was the key reason he joined the Air Force. Kennedy grew up 45 minutes outside of Philadelphia, where he graduated from high school in 2012. He knew college was important but lacked the discipline to manage his classes
The selfless caster who served in the United States Air Force.
Original Author: Sam Eldridge
Alex Kennedy's grandmother was the key reason he joined the Air Force.
Kennedy grew up 45 minutes outside of Philadelphia, where he graduated from high school in 2012. He knew college was important but lacked the discipline to manage his classes, friends, and job, so when Alex lost his financial aid, he was forced to drop out. Determined to continue his education, Kennedy moved to his step-mother's house in Florida in an attempt to gain residency to be able to apply for financial aid.
"That was the plan. I basically moved down south, just me, and then I spent four to six months just working a few jobs," said Kennedy. His favorite among them was working as a projectionist for a film theater. He enjoyed building reels and watching them back, until hardship struck the theater.
"The movie theater was closing down, because it was outdated," Kennedy said. "It was running on film, and because it was too expensive to keep open, they closed down and I lost my job."
He applied for several jobs in the local Florida area, but wasn't able to secure one. Alex was out of a job and out of time, so he packed his belongings up and moved back to Philly.
"I made the tough decision to leave friends, once again, and move back up north," said Kennedy. "I basically had two options going for me at that point: I could either join the military, which I talked to my step mom about while I was in Florida, or, at the time that I moved back, the arena football team, The Philadelphia Soul, were holding open tryouts."
Alex's family has a long history of military service. His great grandfather was in the Navy, his grandfather was in the army, and his dad was a marine, so it might've been on his mind to continue that legacy. By giving himself this ultimatum, he set himself on a plan for his life.
"I told myself, 'alright, I'm gonna go to these open tryouts, I'm gonna give it my best shot. If I don't get picked to be on the team, then it looks like it's the military for me," said Kennedy. "If I do get picked to be on the team, then I guess I got a job.' So, as you can probably tell by the fact I'm a veteran, I did not get picked for the team."
That settled it for Alex. He started talking to a recruiter but was still on the fence about when he would ship out. Alex's grandmother's cancer spread to her brain, and she didn't have much time left. Kennedy began facing the reality that he would lose her. He wanted to be home with her, yet the Air Force beckoned.
"While the cancer was attacking her brain, there were a lot of times where she was talking to people that weren't in the room. She wasn't there, she wasn't looking at you, she wasn't talking at you, she was in another world," said Kennedy. "But, in a really brief and strange moment of absolute clarity for her, during all of that, she looked me dead in the eye and said, 'Alex, I don't want to be the reason why you stall starting your military career.'"
It was in that brief moment that Alex decided to move forward and leave on time to begin his military career. Two days before he shipped off to basic training, his grandmother passed away. He shipped out on April 1st, 2014-- April Fool's Day.
"My recruiter definitely made sure to let me know he wasn't joking when he told me the date that I was leaving," Kennedy jokes.
Alex spent two months in basic military training, BMT, then graduated. Upon graduation, his family came to see him for his ceremony. Kennedy's grandfather gave him a small leather toiletry bag with three zippers. On each zipper donned the dog tag of Kennedy's great-grandfather, his grandfather, and his father. The family celebrated by going off base, where Alex proposed to his girlfriend, and then was shipped off to tech school.
"After that, I went off to tech school where I basically learned how to do my job. The job I was given, the correct title for it, is technically traffic management. In layman's terms, it's basically cargo movements, it's warehouse work, it's shipping and receiving," explains Kennedy, "Anything that went in or off base that obviously couldn't be sent to a post office was sent to our warehouse. I learned my job, then I got to go home for two weeks. As part of RAP, recruiter assistant's program. It's a little program they have set up for people who finish tech school. As long as your recruiter actually okays you for it, basically, you'll spend two weeks at home, helping your recruiter, before you ship off to base."
The base in question, for Alex, was Atlus Air Force Base. Located in a small town in Oklahoma, the base was where he completed his military service. During his service, in 2015, Rocket League launched.
"I've loved watching Rocket League for a long time. I've been playing the game since it's release, when it was free to play on Playstation 4, back when it was like, "hey, every playstation plus member gets to pick a game they want for free next month," said Kennedy. "I guess everyone chose Rocket League because it was brand new at the time. So I got it for free long before it went free to play, and I mainly played on the Playstation 4. I didn't have a PC 'til much later. I've loved playing it ever since I picked it up."
Then a year later in 2016, the first Rocket League Championship Series occurred while Alex was still serving, "I've loved watching RLCS and watching casters do their work ever since that whole thing started. I've always been told I have a voice for radio, or a voice for podcasts, something along those lines. I've always been told that, and I've never really known what to do with that information, if anything," Kennedy professes.
Alex Kennedy exited the Air Force in 2018 with honorable service, after serving four years. He left service the same rank as his father, with a rank of Senior Airman. After serving, he found a job and settled down, until 2020, when he decided to join Provoked Esports.
"I joined an organization called Provoked Esports, I joined as a player on one of the teams. Back then, it was called Gamma Gaming, and then within two months I was the captain of the team that I tried out for and made," said Kennedy. "So, I was the captain of a Rocket League esports team. This was probably about a year ago. We play in a few small Discord Leagues. Then we joined the IGL- The Indy Gaming League."
The Indy Gaming League has a community caster program, where teams can sign up to get their games cast. Kennedy, now playing under a new gamertag, Hybrid, loved this program. It was through this program that Hybrid was introduced to Adderollin, an IGL community caster. Fate threw the two together, and Hybrid connected with Adderollin's casting.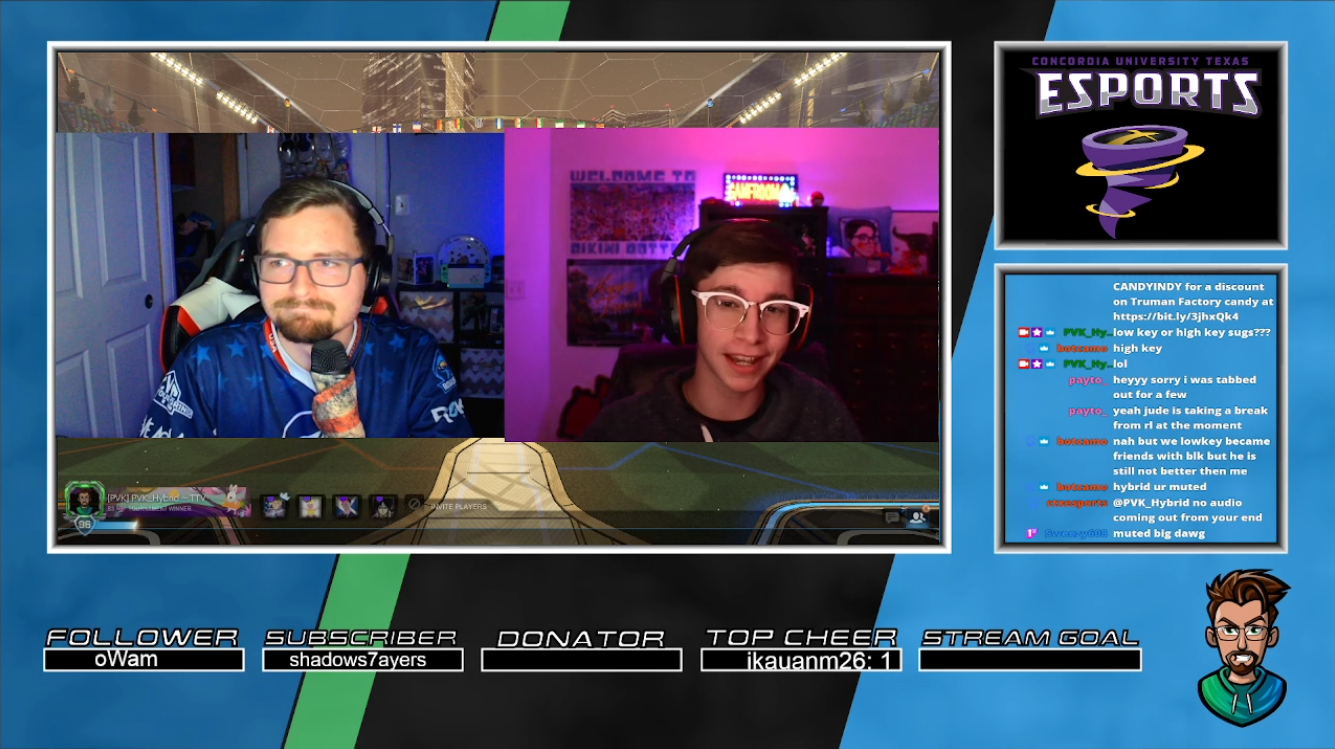 "We thought it was the coolest thing. That was our big stage, and we played really well while doing it," said Kennedy. "I loved the feeling I got watching his VODs back of us playing, and the way he reacted and the hype level he gave us, and all this other stuff. The reason I do interviews with my IGL cast is because he did interviews."
Through Adderollin, Hybrid was introduced to a whole new world: esports casting. Adderollin and Provoked Esports Owner, Psy., helped Hybrid get started by getting him a stream overlay and coached him on how to cast for games. Hybrid credits his casting abilities to them.
After he was all set up, Hybrid got involved with IGL's community caster program, and he's been casting with them for four circuits and counting, as well as casting for Champria and Concordia University in Texas. He always recalls how he felt when Adderollin cast his games for why he continues to cast:
"For me, it's giving that opportunity to teams that don't typically get the opportunity. Giving them that happiness and that excitement when they score a crazy goal in the last second of the game, and you have me as the caster freaking out as if they just won a tournament," said Kennedy. "You know, we can be over the top sometimes but at the end of the day it's all for the teams themselves. I don't cast for myself, I cast for the teams. I cast to give players what a lot of other teams have had and a lot of other teams will have in the future."
Hybrid, at his core, is a selfless person determined to make people smile. He joined the Air Force, continuing his family's three-generation legacy, he shipped off to basic training on time to honor his grandmother's wishes, and he casts, not for himself, but for the teams to experience their games on the same caliber and excitement levels that they deserve.
"My goal in life is to just to make as many people happy or feel better about anything more so than they currently are," said Kennedy. "So, if I can do that through casting for a few Rocket League players,  and they don't really ever get the chance to be on the big screen, and I can give them that opportunity, and I do well for them, and they're happy and excited, then I'm all for it."
Today, on November 11th, 2021, Veteran's Day, we thank Hybrid for his service.