UCONN Nabs Clean Sweep Against Lebanon Valley College
UCONN Nabs Clean Sweep Against Lebanon Valley College The Huskies' Rocket League team went 4-0 in the latest Champria Challenge. By: Sam Eldridge Clean sweeps don't happen often in Champria Challenge. In fact, before this week, the only other 4-0 happened on the very first match of the season
The Huskies' Rocket League team went 4-0 in the latest Champria Challenge.
Original Author: Sam Eldridge

Clean sweeps don't happen often in Champria Challenge. In fact, before this week, the only other 4-0 happened on the very first match of the season between Frost Esports and Oklahoma Christian University. What can only be described as a sequence of favored circumstances for the University of Connecticut was just a series of unfortunate events for Lebanon Valley.
The first game was a statement setter for UCONN, with each player scoring at least one goal. This start to the game set the tempo for harsh, offensive attacks from the team. The opposing Lebanon Valley squad struggled to keep up. The game ended 4-1 in favor of UCONN.
Similarly, game two saw Anton% from the University of Connecticut scoring twice and Disastyr scoring once, while fuzzi and faithful from Lebanon Valley took one goal apiece. While Connecticut capitalized on many of the opportunities for scoring, Lebanon Valley couldn't convert shots into goals, with only two of the seven shots landing in the net.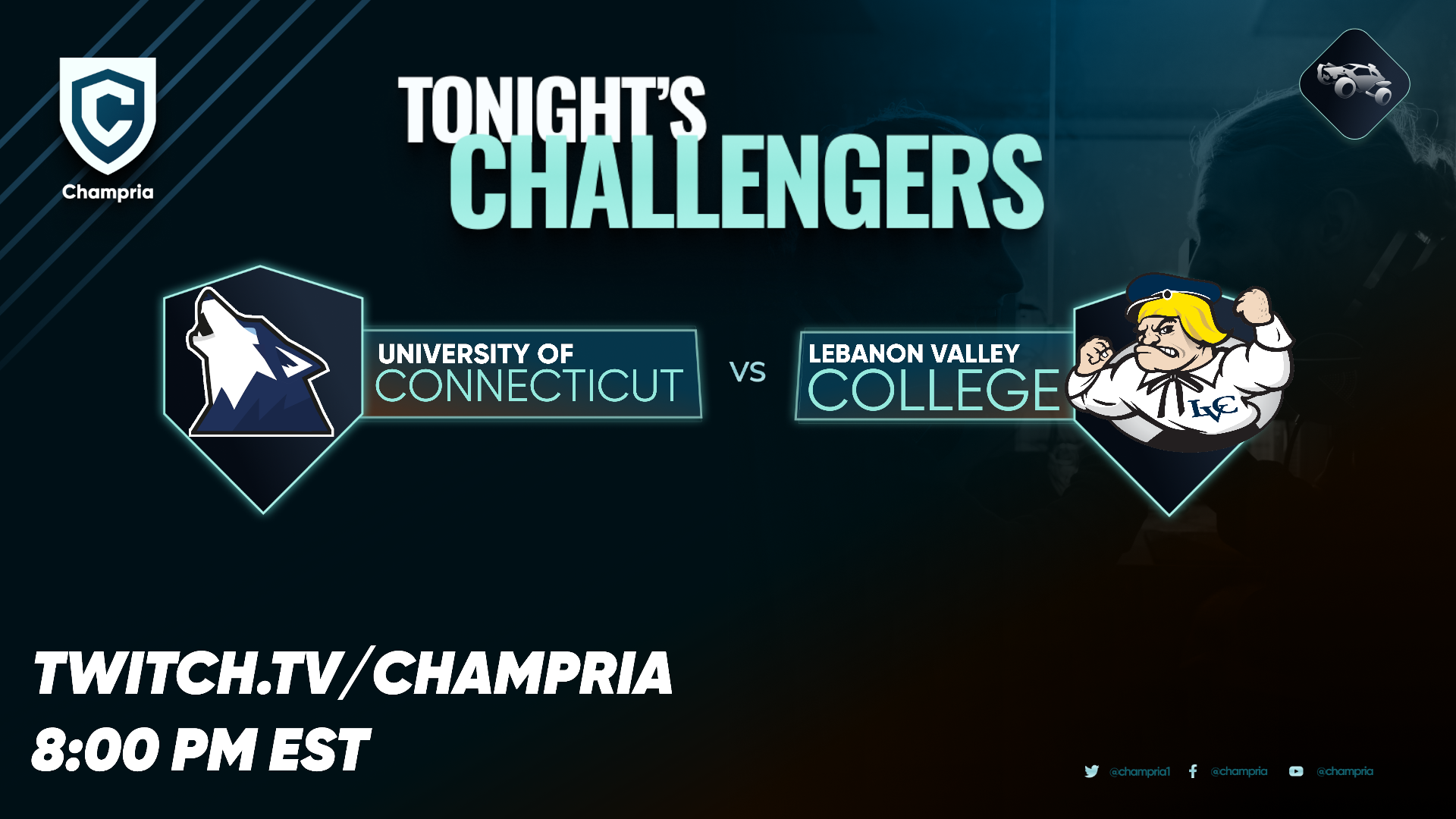 After game two, it seemed any momentum Lebanon Valley was trying to build was ultimately diminished with the crushing game loss. and that meant UCONN was free to pounce on the team, taking game three 1-0 and game four 2-0. It was clear that the roster of the University of Connecticut was playing more cohesively, and that gave them the advantage.
Anton% was given MVP of the match by both casters unanimously as he mounted the majority of the offensive pressure.
Individual Statistics
University of Connecticut
Anton% - 6 goals, 2 assists, 5 saves, 13 shots
droiz - 1 goal,  3 assists, 2 saves, 9 shots
Disastyr - 3 goals, 4 assists, 3 saves, 8 shots
Lebanon Valley College
magarz - 1 assist, 5 saves, 5 shots
fuzzi - 2 goals, 4 saves, 8 shots
faithful - 1 goal, 3 saves, 6 shots
Catch more Champria Challenge content by checking out Clips of The Week on Champria's YouTube and following Champria on Twitch and Twitter.